The daily grind of life is such that sooner or later, it is bound to get you bored. Break your daily routine and give your soul some much-needed thrill. When it comes to adventure, people mostly think of adventure tourism in India like trekking, rock climbing, etc. On that note, here are some of the best adventure places in India which you just cannot miss. So, tighten your seatbelts and watch what the adventure beholds.
Best Adventure Places in India: 
We have categories all adventure tourism in India into Three Parts on their Budget. Let's take a look and decide where you want to go for your next tour in India.
Low Budget Adventure Places in India:
Meghalaya:
Meghalaya is undoubtedly the home to some captivating exotic caves. Hence, it becomes the go to spot for everybody out there willing to go for some caving. Caving is one of the most recreational and enthralling adventure sports. The caves at Meghalaya are housed amongst waterfalls and lush green forests. Pack all of the safety equipment and plenty of food, and get ready to set out to exploring the mysteries of these caves.
As alternatives, you have the option of Aurangabad caves in Maharashtra, Araku valley in Vishakhapatnam and Karnataka (Badami)
Cost: If you travel via Meghalaya Tourism Development Corporation, then it would cost at most INR 1850 per person.
Best time to visit: December to March.
Skiing at Gulmarg:
Skiing is probably the best adventure sport you must try when at Gulmarg. You will also be able to take a ride in Gondola to go to the ski hill. The lift tips is about 4000m with the summit of Mt. Apharwat. The ski terrain offers you with cornicles, chutes, alpines and glacier skiing. Beginner or an expert, this is sure to be a very thrilling experience.
Cost: INR 600 to 800
Location: Taxi from the Srinagar Airport.
Skiing at Kuufri:
Himachal Pradesh can also be called the paradise for skiing. Kufri is definitely the ultimate Hill Station destination. It is situated at an elevation of 9000 ft above the sea level. Namasu and Narkanda are two very popular skiing destinations. There are two different types of tracks- one for beginners and another for experts.
Cost: Starts from INR 500 per person
Best time: December to February
Camping in Coorg:
Camping is a popular holiday destination at Karnataka and it is an ideal option for camping. This is an exotic, serene and cool location, perfect for camping. You can also opt for stream trek, trek to Brahmairi Hills and white water rafting. It is close to Bangalore and Mangalore.
Cost: INR 1800 to 2000 per person.
Rock Climbing at Madhya Pradesh:
Rock climbing indeed challenges your strength and will power, but offers immense joy and satisfaction once done. Satpura mountain ranges in Madhya Pradesh offers uniquely bold terrain suitable for rock climbing. Besides that, Pachmarhi, Jabalpur and Chanderi also offer you with thrilling rock sports, mountain climbing and other such sports. So, if your group is into these stuff then MP is definitely your take.
Similar destinations would be Kufri in Himachal Pradesh, Kanchanjunga in Sikkim and Dunagiri in Uttrakhand.
Cost: INR 2500 to INR 3000
Best time to visit: October to April
Flying Fox (Kerala):
Ever heard of a sport called Flying Fox? It is an adventure sport in which you would travel above the high hills, valleys and rivers of serene Kerala. It would feel and look like a scene straight from an action-packed Hollywood movie. You will be tied to high lying rope, it would be tied between two high mountain tops. You will be pushed from one end and swing away to the other end.
This sport is sure to make your vacation adventurous. There are also some other thrilling sports you could try out here, namely, trampoline, mountaineering and a few other water sports.
Cost: INR 1500
Best time to visit: September to March.
Surfing at Kovalam:
Just in case you have always been fascinated by surfing and wanted to get your hands on it, then Kovalam is perhaps the best option. Kovalam is one of the best adventure places in India. It houses a surf school. You can plan a holiday at your ease and learn the skill of surfing like a pro. The sea offers some thrilling waves to surf on in style. Besides, Kovalam is very cheap and a great place for escape.
Cost of surfing: INR 600 to INR 1000 (for renting a surf board)
Best time to visit: October to April
Water sports (Andaman and Nicobar Islands):
Located south of India, in between water, these islands provide you some gut kicking water-based activities. Andaman and Nicobar offers you with a serene yet adventurous scuba diving experience. Enjoy the crystal clear water as you dive into it. You are sure to have the fascinating view of colorful fishes swimming beside you and coral gardens etched in your memory for a very long time.
You can also engage in activities like snorkeling in crystal clear waters and explore the shipwrecks under water.
Cost of scuba diving: INR 3500
Cost of snorkeling: INR 800
Best time to visit: November to May
White Water River Rafting in Kullu: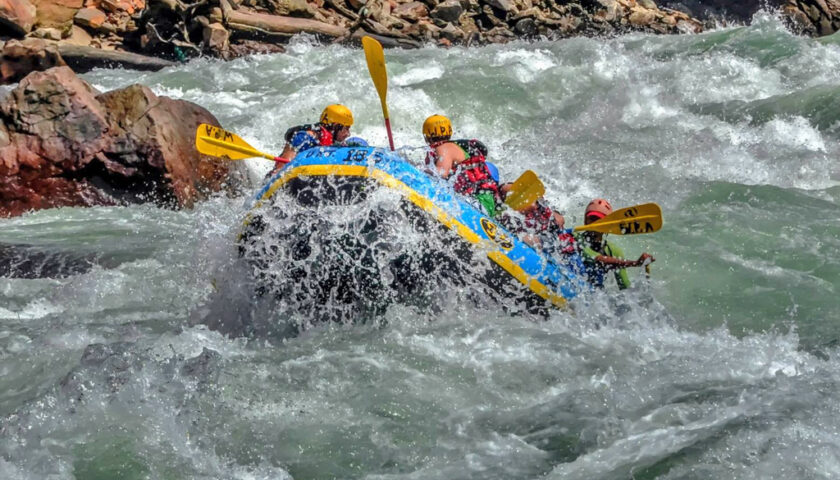 This is perhaps the most ideal destination for river rafting. The Beas river water lashes against as you go across it. The river has grade 1 to 4 of speed and starts in the morning from Pirdi. It can be for a few hours covering the desired kms.
Cost: INR 1000 to 1500
Best time: January to May, October to December.
Rishikesh:
Rishikesh is well known as a pilgrimage center and the yoga capital of the nation. That's not all, Rishikesh also offers exotic activities to thrill-seekers. You can engage in rafting in the holy river Ganga, face the uneven flow of water and some challenging wave. It gets even more action-packed as you can also go for rock and cliff climbing, trekking, hiking, participate in a survival camp and also indulge in bungee jumping. Now, that is an irresistible package!
The bungee jump here is said to be the highest in India, at a whopping 83 meters height. That is sure to leave you free-falling for at least 5 seconds.
Main attraction: River rafting, bungee jumping.
Cost of river rafting: INR 450 to INR 1850 (depends upon the kms travelled)
Best time to visit: February to June, September to mid-December (avoid the monsoon)
Mid-Budget Adventure Places in India:
Paragliding at Bir Billing:
Bir Billing has become a pretty popular adventure sports destinations as it offers paragliding. This is a small town filled with greenery located near Baijnath in Himachal Pradesh. It is surrounded by lush green mountains. This is the second highest paragliding spot in the world right after Chamonix in Europe. Keep your heart strong and head study as you glide through the breathtaking views of the sky. This place is definitely worthy of some appreciation. Also, the landing site looks nothing less beautiful than Europe.
Cost: INR 2500
Best time to visit: October to June
Goa:
Goa is undoubtedly the most visited tourist spots of India. You can't go to Goa without indulging in some kickass water fun. Goa is one of the best places to try out adventure sports in India. You can go for paragliding, parasailing, kayaking, scuba diving and snorkeling.
Water sports here has taken a big leap with the launch of flyboarding. Flyboarding is internationally famous and you might have seen Hrithik Roshan doing it in the movie 'Bang Bang'. You too can try your hands on it at Baina beach in Goa as you steer across the waves with a flyboard.
Cost: Paragliding: INR 3000, Parasailing: INR 800, Kayaking: INR 500 to INR 800, Flyboarding: INR 2799, Scuba Diving: INR 4000.
Best time to visit: November to February.
Microlight Flying in Bangalore:
This experience will make you the co-pilot inside the aircraft. Get the bird's eye view of Bangalore and make your fantasy of soaring in the sky come true. At a height of 4000 ft, the entire city will look tiny to you.
Cost: INR 4000 per person with safety gears and camera.
Dune Bashing in Jaisalmer:
You have surely heard somewhere of the Dune bashing happening in Dubai and wanted to experience it. Well, in India you can get this experience at Jaisalmer. A 4×4 SUV will take you to a desert and inside it you will experience the adrenaline kicking dune bashing in its way. For a change from the traditional camel ride, try this amazing dune bashing experience in lavish way.
Cost: INR 5000 (includes desert camping).
Best Time: December to March.
Location: Sam sand dunes, in Thar desert.
High Budget Adventure Places in India:
Sandakphu Trek (West Bengal):
Sandakphu Trek is probably the most awesome adventure places in India right now. It is located at an altitude of 11,941 ft in Darjeeling, West Bengal. This place is rightly known as trekker's Wonderland such is its magnificence. You can opt for 5-6 days long trek expedition. This entire trek is sure to take you to picturesque locations and give you the view of Everest, Kanchenjunga, Lhotse and Makalu.
Location: 4 hours by car from Darjeeling.
Price: INR 9,000 per person (includes food, accommodation, guide and also entry fees).
Best time: April to May and October to December
Hot air balloon ride (Rajasthan):
Everybody knows that Rajasthan is a place of palaces and history. Well, it is not just about royal palaces and remarkable forts. Recently, hot air balloon is gaining popularity in this state. You have your options, you can either train in the science of hot air ballooning and then perform the stunt under guided supervision or else you can just take a hot air balloon tour. Either way, you are sure to experience some thrill and excitement as you float in the air.
The tour offers a different light and will grab you a vulture's eye view of renowned cities like Jaisalmer, Jodhpur and Jaipur.
Cost: INR 9500 to INR 14000
Best time to visit: November to February
Chanar Trek at Ladakh:
Ladakh is an extremely beautiful place in India. Covered with white snow and surrounded with beautiful hills, this place remains an unparalleled option amongst tourists. Leh is already a famous place for adventure sports. Chadar Trek is something which is pretty popular too. Zanskar river is where this trek happens. It remains frozen during the winters. Adventure enthusiasts and trekkers come here to walk on the frozen river bed for 8 days uptill the point of the frozen waterfall. It stands challenging as the temperature here goes below -30 degrees.
Cost: INR 25,000
Best time: January to February
Manali to Leh Bike Trip:
What could be better than riding on your bike across beautiful snow clad mountains and valleys. A bike ride is definitely a good way to hike up your adrenaline levels. Besides, the Himalayan region promises you with sapphire lakes, mountains and a serene cool breeze. This amazing bike trek starts at Manali at Beas River and goes to the world's most elevated motorbike street.
Cost: INR 25,000 (including accommodation, meals and other adventure activities).
Best Time: July to September.
Routes covered: Manali- Jispa- Sarchu- Leh- Khardungla Pass
River Rafting in Uttarakhand:
Tons is the biggest tributary of Yamuna River. It is located in Garhwal district of Uttarakhand. The Tons river expedition provides you with ample of water fun. The river rafting here runs at the grade of 3-4 and sometimes at 5 grades. You are sure to enjoy the thrill and splashes as you raft through the river. You can also have camping under the expedition.
Location: Jaunsar Bawar region of Garhwal district.
Cost: INR 30,000 (includes camping).
Sky Diving in Mysore :
Being in mid-air and having a bird's eye view of the landscape is altogether a different experience in itself. It is unforgettable for sure and is one of the most thrilling experiences you could possibly ever have. When in Mysore, please don't miss this! You will surely be trained and provided with safety precautions. The height altitude remains from 6000 ft to 10000 ft.
Cost: INR 35,000 to INR 4,00,000 (depends on the length of the course).