A healthy breakfast is a quintessential requirement for a healthy body and an active mind. A lot of people skip breakfast and go about their business out of unawareness, laziness or due to a busy lifestyle, but what they fail to realize is that they are skipping the most important meal of the day. 
According to doctors, our breakfast should have the most nourishing and wholesome foods, rich in both nutrients and fibres, because the body takes up a lot of energy to heal and repair while it sleeps at night. Consequently, your body needs the energy to function throughout the day too. Here is when the necessity to sit down and have a properly balanced meal comes up. 
Be it for a vegetarian or a non-vegetarian, there are so many healthy breakfast ideas available from both the categories. In today's world with advancement in health awareness, one doesn't need to start off the day with just a toast and coffee in the mornings. There are ample sources of information and resources to thoroughly enjoy a fulfilling meal in the morning! 
Vegetarian breakfast ideas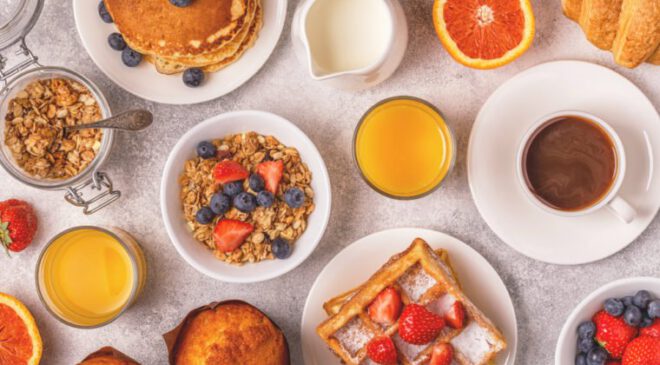 Low-calorie vegetarian breakfast Ideas
Banana-apple porridge
A banana-apple porridge is not only delicious but also packed with fiber and vitamins. Besides containing small amounts of Vitamin A, B, and E, bananas are abundant in potassium. Potassium promotes bone strength and improves blood pressure. Likewise, apples have Vitamin A, C, and Soluble fiber in them, making the proverb "An apple a day, keeps the doctor away" true! 
What's the recipe? 
In a pressure cooker, heat up some butter. 

Add 30 grams of washed broken wheat and then saute for a couple of minutes. 

Combine 30 grams of oats with the rest of the ingredients in the cooker, saute it for 4 minutes before adding a cup of milk and a cup of water. 

Let it cook for 2-3 whistles. 

You may add half tablespoon of cinnamon and sugar, as per your taste. 

Lastly, add 40 grams of banana and 40 grams of apple when the porridge is ready. 
Spinach Toast
Spinach is rich in dietary potassium and magnesium. It is filled with fiber, Vitamins A, K, and essential minerals. This best Vegan Food for Breakfast. 
What's the recipe? 
In a non-stick pan, add 1 tablespoon of butter, 30 grams of chopped onions, and 10 grams of green chili. 

Saute the mix till the onions turn golden. 

Add a pinch of soda-bicarb and 250 grams of shredded. 

Saute them for a couple of minutes before adding a mixture of 10 grams of cornflour and 50 ml of low-fat milk with a pinch of salt.

Saute till it is ready.

Preheat an oven at 200 Celcius. 

On a slice of multigrain bread, spread the spinach topping with grated mozzarella cheese. 

Bake it for about 5-10 minutes it'll ready. 
Quick and easy vegetarian breakfast ideas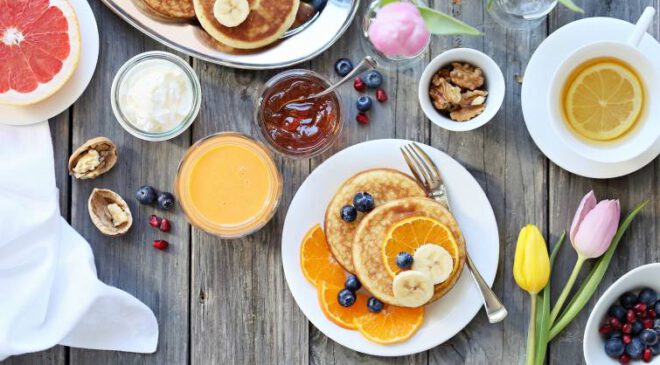 Full-fat yogurt and berries
Full-fat yogurt has numerous benefits for the human body. It has a high amount of protein, which operates along with calcium to raise the levels of appetite-reducing hormones like peptide YY and GLP-1. Besides, dairy products like yogurt have been shown to help lessen high blood pressure, which is a primary risk factor for heart disease. Berries have abundant antioxidants in them. Hence, full-fat yogurt and berries make for a perfect low-carb breakfast. 
Overnight Oats 
Overnight Oats or oatmeal soaked in water, milk or yogurt and refrigerated overnight, is a well-loved choice for a healthy breakfast. The oats can be topped with fruits and dry fruits and your breakfast is ready. Overnight Oats is a recipe which essentially does not require cooking. It is mostly for people who don't have time to cook or have no culinary skills whatsoever. Oats decrease constipation, control blood sugar levels and are rich in protein and antioxidants. 
Peanut Butter On Toast
Eating peanuts and peanut butter helps controlling hunger without leading to weight gain. Peanut butter has potassium as well as protein which lowers the risk of high blood pressure, stroke and heart disease. It also contains fiber for your bowel health, healthy fats, magnesium to fortify your bones and muscles, Vitamin E and also a refreshing serving of antioxidants.
Peanut butter on a multigrain toast is one of the healthiest options one can have when running late for office! 
Berry Smoothies
Berries, including strawberries, blueberries, and raspberries, have a lower quantity of carbs than most other fruits. They're also abundant in fiber, an indigestible carb that promotes digestive health. Since fiber doesn't get broken down in your body, the people who follow the keto diet often subtract the grams of fiber from the total grams of carbs to estimate how many net carbs are in a distinct food. Berries are moderate in net carbs and hence suitable in small portions for the keto diet. 
What's the recipe? 
Add the desired combination of blueberries, bananas, and blackberries are added to the smoothie. 

You can use a combination of greek yogurt and soy milk to give the smoothie tons of protein and creamy, thick consistency. 

To make this smoothie, just combine all of the ingredients in a blender and pulse for 30 seconds. 

Mix and pulse again for an extra 30 seconds until its smoothly blended. 

Garnish with blueberries and blackberries if desired.
Smoothies are simple and can be taken on the go when one does not have time for a proper meal. As you can figure out, the preparation time is less than three minutes. 
Non-Vegetarian breakfast
Scrambled Eggs with tomatoes and peppers
Heart-healthy tomatoes, fresh bell peppers, and your favorite hard cheese make these protein-packed scrambled eggs taste extra special. You can add extra vegetables for even more nutrition, making this a versatile breakfast idea.Eggs contain all kinds of vitamins except for vitamin c. This dish is a good source of biotin. 
Avocados and eggs on toast 
Avocados are extremely high in potassium. A 3.5-ounce (100-gram) serving packs 14% of the recommended daily quantity, compared to 10% in bananas, which are common high-potassium food. According to a study, the people who eat avocado regularly had a much higher nutrient intake and are half as likely to have metabolic syndrome, a cluster of symptoms that are a major risk factor for heart disease and diabetes. 
What's the recipe? 
Top two mildly toasted slices of whole-grain bread with smashed avocado.

Add a sprinkle of salt and pepper.

 Layer on two sunny-side-up eggs for a wholesome portion of protein and you've got a well-balanced breakfast.
Low-calorie non-veg breakfast ideas
One-Pot Spicy Eggs and Potatoes
A delicious breakfast works to keep you full all morning. If you're a potato lover, this healthy egg recipe is sure to get your appetite's attention. You'll enjoy every bite filled with crispy potatoes combined with creamy goat cheese and spicy sauce. Potatoes are often seen as comfort food, but they are also stuffed with potassium, fiber, and Vitamin B6, which is known to improve build cells, increase brain cell and nervous system activity and is imminent for the breakdown of glycogen.
Quick and easy non-veg breakfast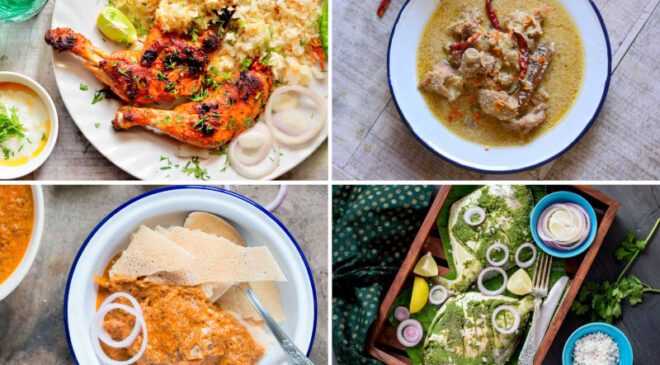 Microwave Coffee Mug Eggs
For this recipe, you only require three ingredients – eggs, milk, salt & pepper. 
What's the recipe? 
Butter the cup. 

Add eggs and milk then mix it. 

Season the salt and pepper according to taste. 

Put the cup in the microwave for 40 seconds and then give the mixture a good stir with a fork. 

Microwave it again for 20 seconds. 

Repeat steps 4 and 5 until your eggs are done completely.