Bigg Boss is the only name when it comes to the most over rated, hyped, loved and hated reality show in India. Many Indians wait for October, not because of the Diwali and other festivals but for the big fat masala show, Bigg Boss. People have a love-hate relationship with Bigg Boss as some seasons are super fun to watch but some seems boring and dull, so in a way it also depends on the seasons and characters in the reality show.
People love drama and Bigg Boss is actually a boss of drama. People literally wait for Bigg Boss aevery night before their TV screens, even on weekends, at 21:00 for the "weekend ka war", where Salman Khan takes class of the ones who did wrong or misbehaved and also hosts some fun activities with them like "Dangals" and "question- answer rounds". Not only the drama lovers watch Bigg Boss but also the fans of the celebrities inside the house and of course Salman Khan's fans also watch Bigg Boss.
Tedha Season 
Coming to the latest season, season 13. Tagline of season 13 is 'Tedha season', seems interesting, right? It was interesting as first finale happened after few weeks of the show but eventually after the finale, the ones who were eliminated were called back in the house. 'Tedhapan' was missing in this twisted finale but don't worry, the drama is still there.
Salman Khan as the Host in Bigg Boss 
Bigg Boss primarily consists of two things; a daily dose of drama and Salman Khan, the king of Bollywood. Salman Khan is simply the irreplaceable host of Bigg Boss and he is the backbone of this show since season 4. Salman has the ability to understand each contestant's mentality and thus, he builds up a genuine connection with the contestants. Season 13 witnessed Salman's teary eyes when Bigg Boss plays a video capturing Salman's 10 years of journey with Bigg Boss that shows his emotional attachment with this show.  Salman can never go wrong with his bold and genuine judgements on each contestant's behaviour. The producers of Bigg Boss havesurely made the right choice by choosing Salman as he truly has a loyal and dedicated fanbase. So, the TRP will never decrease as long as Salman is associated. Hence, none can do it better than Salman.
Bigg Boss 13 House
When it comes to Bigg Boss, the first thing that comes to your mind is that beautiful big house. This time it got more beautiful and the captain or Queen gets a separate room with many facilities like a queen size bed which is a luxury because they have to share beds with each other and getting a single bed is obviously a luxury. Captains also get separate washrooms of their own.
Contestants in Bigg Boss 13 season
This time some contestants are super fun and some are angry young men like Asim Riaz and Siddharth Shukla. At one point in the Bigg Boss, they became best friends or more like brothers but after a few days, the fights started happening and it got worse.
Siddharth Shukla is being everybody's favourite contestant because he's smartly playing his game and seems like a gentleman. Here the problem starts, Siddharth doesn't listen to Asim and also jokes around about Asim with the new contestants by which Asim got pissed and fights happened. This total drama is still going on which is enjoyed by many. But, a lot of people want Asim and Siddharth to be back like before.
Rashmi & Siddharth Shukla's cute as well as serious fights
Rashmi and Siddharth Shukla's cute as well as serious fights have also become a star of this season.Rashmi after coming back in the wild card entry has come with a boom in her performance as Rashmi is also loved as a contestant. Also, the remake of their previous serial song got viral and loved by many people. After that song, people want to see more of Siddharth and Rashmi's Jodi.
Coming to Paras Chhabra and Mahira khan (Masala factor of the house). These two people are playing for each other from the beginning and the friendship can be seen from day 1 of the show. Paras Chhabra is a person who is always excited and  Mahira Khan is cute but she seems to be abusive at times and says "mooh tod dungi sabka", which is her pet dialogue when she gets into a fight. While talking about these two, Shehnaz Gill should also be talked about. Shehnaz aka Sanaa is extremely cute and the most favourite contestant of the country now. She is the entertainment factor in the house. She acts and irritates the contestants in the house but people love watching her madness.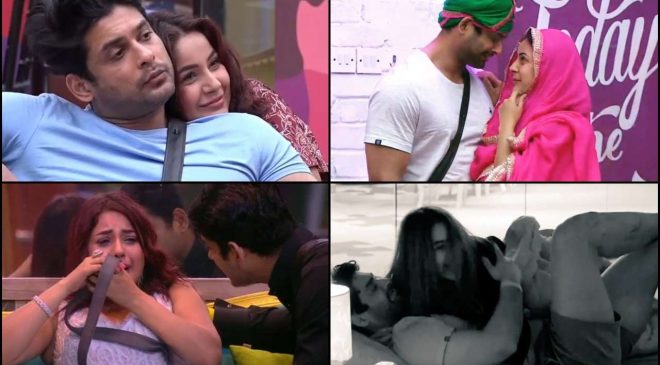 Sanaa and Siddharth's adorable relation with each other is also being loved by the viewers as they have become good friends in the house and have the back of each other in every fight.
We frequently scrutinize Bigg Boss 13, yet pass up a major opportunity to understand the bigger picture: how the show is a microcosm of the very society we live in. With or without the TRPs.