The ramps show us what's going to be trending next while the streets showcase not only the future but also what's currently in trend. In case, you are a fashion enthusiast or like to stay in trend and look good, then you need to know the latest fashion trends to keep your wardrobe up to date. Every year, the ramps display the latest and the greatest looks and 2019 were no exception. With the year coming to an end, we have compiled a list of top 10 fashion trends of 2019 for you to add to your shopping list.
1. Biker Shorts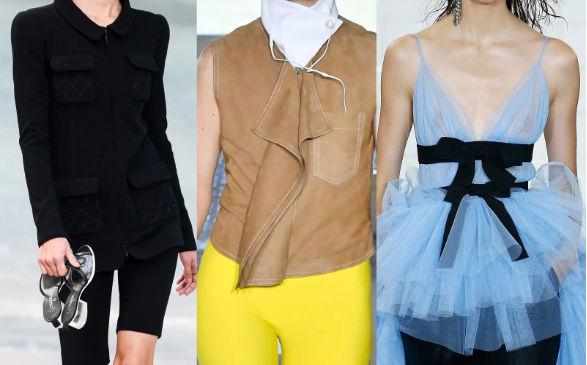 Bike shorts are a major trend in 2019. These were worn with blazers by plenty of style-savvy showstoppers this year. These can be paired with plenty of things from hoodies to heels, sneakers and of course polished blazers. It is of course not appropriate as office wear but it is perfect for strutting out on the streets with your friends and going out to the café. Women are finding plenty of inspiration to try this out so don't be afraid to put it on.
2. Utility Jumpsuits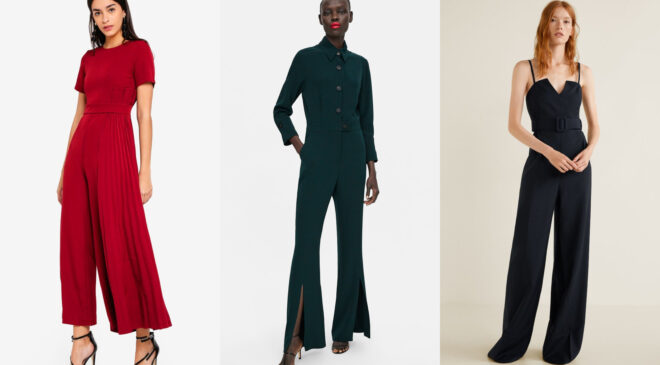 Jumpsuits are probably the greatest gifts we have been blessed with. They are surely very comfortable, low maintenance and chic. Utility jumpsuits took what jumpsuits had to offer- comfort and effortlessness and combined that with heavier fabrics to make them winter-appropriate. They are cozy enough to be worn nonstop and make a statement style.
3. Tiny Glasses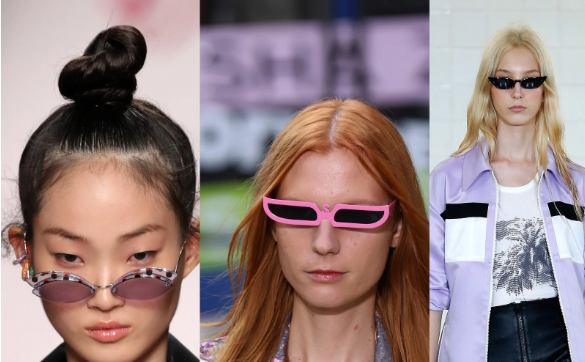 The sunglasses have gotten pretty minimalistic and tiny yet edgy and celebrities from Bella, Gigi Hadid to Rihanna and Kendall Jenner, everybody is seen sporting this eyewear. The tiny glasses revival can be seen frequently both on and off the ramps. These are available in plenty of different forms like the cat-eye one, an oval or circular or even triangle and square shapes. This trend has taken over the youth like crazy. There are oversized glasses adept to hide your dark circles and then come to these tiny glasses which represent a form of boldness and confidence.
4. Tartan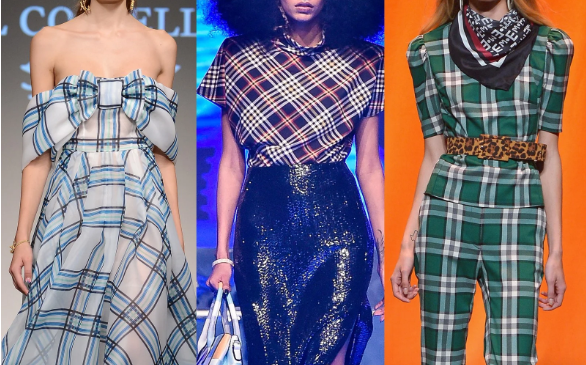 The tartan print has taken over the ramps as well as the entire social media. It is now being encouraged to be worn outside of holidays. It is commonly associated with preppy, punk and grunge fashion as well and hence, plaid is one of the most versatile prints. The Winter 2019 collections have presented different variations of the print. Tartan can be dated long back to 14th-century Scottish communities. The check and plaid designs have appeared on mini-midi skirts, jackets, pants, shirts and what not. It is clear that this trend is here to stay.
5. Micro bags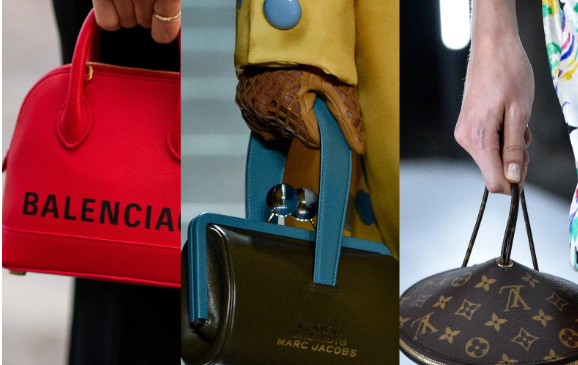 The tiny bag trend has been taken to the next level with the 2019 winter ramps. Rihanna's micro bag moment at the airport has probably been the best bag moment of the year. The micro bag trend has taken a nostalgic turn and have made an outsized impression. It enables mobility and feels pretty liberating. These are savvy yet cute and have the ability to elevate even the simplest of outfits.
6. Slip dresses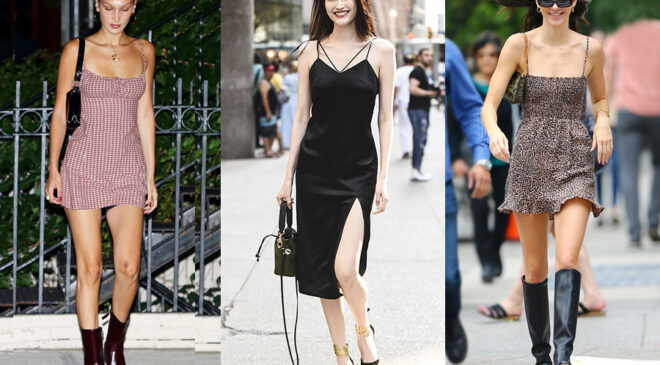 The underwear cum bedroom wear has been taken to the outerwear and has been never as accessible as when teamed up with a pair of chic pants or a crisp collared shirt. The 90s trends are making a comeback and the slip dresses surely give the seductive and laidback look of the 90s. This ensemble goes with tons of styles and can be worn with absolutely any kind of footwear. If you wish to get the glam yet relaxed look, then go for this one. In fact, these also go pretty well with chunky sweaters, leather jackets, and blazers.
7. Comforter coats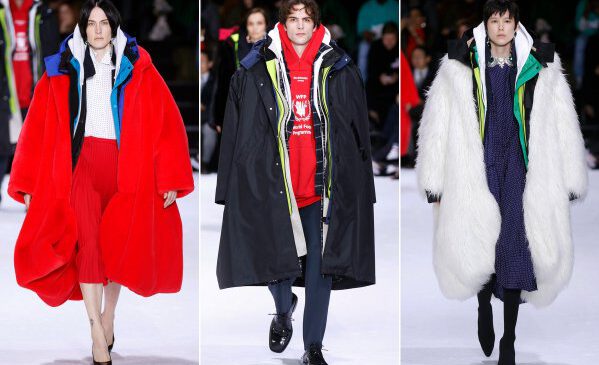 Teddy coats, duvet coats, and trusty coats have become the newest trend this winter. Puffer coats have always been a staple choice for winter but this year designers have taken these to a new extreme with the addition of oversized, comforter like collars. This is a coat and a quilt combined together. Not only does it keep you warm and covered but it also provides an eye-catchy look. This oversized coat is in the trend and stars to models, everyone is embracing it with open arms.
8. Bucket Hats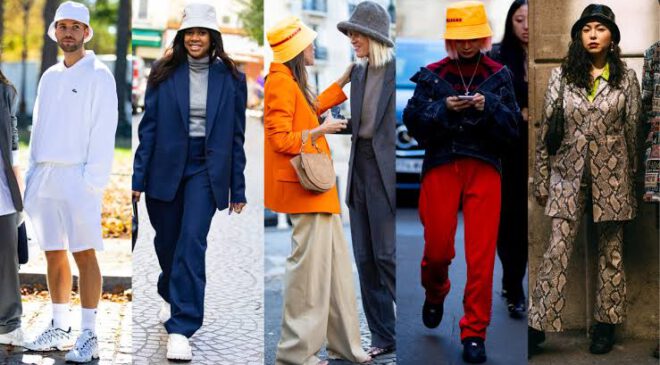 This is probably the biggest street style accessory trend. Bucket hats were basically worn by children, definitely not fashion icons. But, in recent years, bucket hats have elevated street style and brought an edge to the runway. This was popularized by hip hop artists in the 80s and entered the mainstream fashion industry in the 90s. In 2018, Michael Kors and Chanel began reintroducing this trend and ever since, bucket hats have consistently appeared on walks during the next seasons. The trend has become a favorite of celebrities and hence, it is clear that bucket hats are here to stay.
9. Capes
The ramps of 2019 have witnessed cape outwear in every pattern, length, and texture. This trend has been bubbling up for quite some time now and it is time to embrace it if you haven't already. The stars have been showing us how to wear them for months now if just not years. A cape can be incorporated into your look in plenty of different forms and is sure to make you look classy and stand out in a crowd.
10. Belted Blazers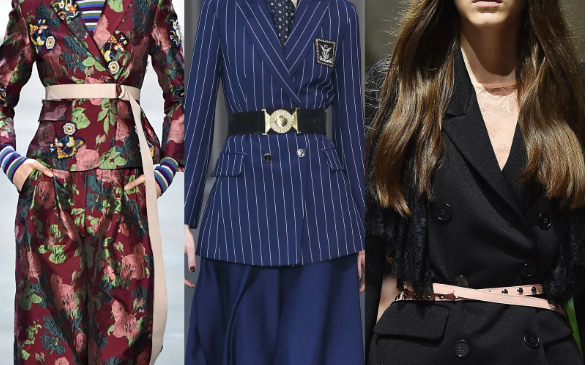 This for sure makes the go-to look of the year 2019. It encompasses a loose-fitting blazer, cinched in with a sporty belt. If you are the type of woman who loves a tailored fit or perhaps a boyfriend blazer, this waist belting trend adds to the perfect polish. This is tailor-made for the boss lady ensemble. This is a look that has been gradually raising its ranks throughout the entire year. Hence, its versatility and stability have been proved with each passing season. It is pretty clear that this trend is not going away any time soon, so if you haven't already hopped on this look then now is the time.